DEPARTMENT OF LIBRARY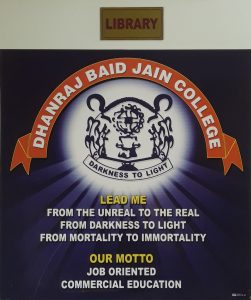 Library is a Temple of Learning and backbone of civilized society and heart an academic institutions. The D.B.Jain College library functions with the Motto "Books are for Use", the first law of Dr.S.R.Rangathan (Father of Library). Our library Possess, a good collection of books, journals and other necessary facilities. Our college library provides information regarding current knowledge to the students, staff and faculty members and supports the research and teaching-learning activities. The Library provides services and facilities to support the Teaching, Learning and Research activities in the college. The main aim of the library is to motivate the users by utilizing the current resources, and facilities through the development of ICT. Thus the library is user-friendly method. The collections in the library have increased steadily with the full support of management, secretaries and the Principal. It may be mentioned that Generator and UPS facility is extended to the college library.
The Library is housed in an area of 3950 Sq.ft houses 40,452 text books and here are access to over 30 lakhs of e-books of N-List source, 98 printed journals and more than 5000 e-journals from INFLIBNET. The back volumes of journals are maintained. Books for civil services examinations, Banking Recruitment exams, TOEFL,NET, SLET, TNPSC, RRB etc., are available. The library have the collection of maps, Atlas, Encyclopedia, Ph.D. Projects and so on.
FACILITIES IN THE LIBRARY
Open Access system is followed in the library.
Free Internet access
Reprographic facilities to faculty and Students.
The Book Bank facility is also available for the needy students.
Library automation has been done by library management system, software from Unicard Technologies Pvt Ltd, Chennai. All books have been bar-coded and bar-code scanners are used for the transaction (issue and return) of books. A mini video hall functions in the library with LCD projector facility.
Our college library conducts an annual quiz programmeon the occusion of Dr.S.R.Ranganathan's birthday every year and conducting a quiz program on that occasion. It also conducting the following program frequently
Career guidelines program – every year for final year students sessions
Information and Communication Technology (ICT) Week for students as well as faculties
Awareness program on Online source (N-LIST) for faculty members and research scholars
sherlock Holmes Search Competition conducted every year
LIBRARY STAFF
| | |
| --- | --- |
| Dr.G.K.ASHOK | M.L.I.S, M.PHIL., Ph.D. Librarian |
| Mr P.VIJAYABASKAR | M.L.I.S., M.Phil. Assistant Librarian |