Friends of Police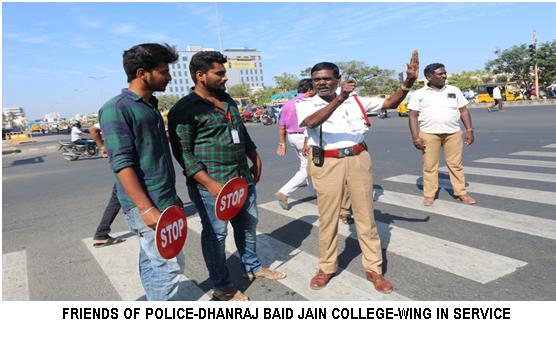 The FOP Movement is a Community Policing initiative that aims to bring police and public closer. It is useful, holistic and proactive concept and a tool to transform the image of the police among the public. This community policing initiative is worth implementing in every nation and every district. It is a formula and method of sharing police power and responsibility with the public in an increasingly complex and dangerous world.
As a part of this, we at DB Jain have taken up the edge to help the police and public (specifically students) to come under single umbrella. It primarily creates the sense of belonging and responsibility among the student fraternity. The objective is to create practical and progressive citizen to our country.
At present the pupils of DB Jain College are servicing the Thoraipakkam police in managing the traffic and educating the people, concerning the rules and regulations to be followed while travelling, as human life is most important of all.