Entrepreneurship Development Cell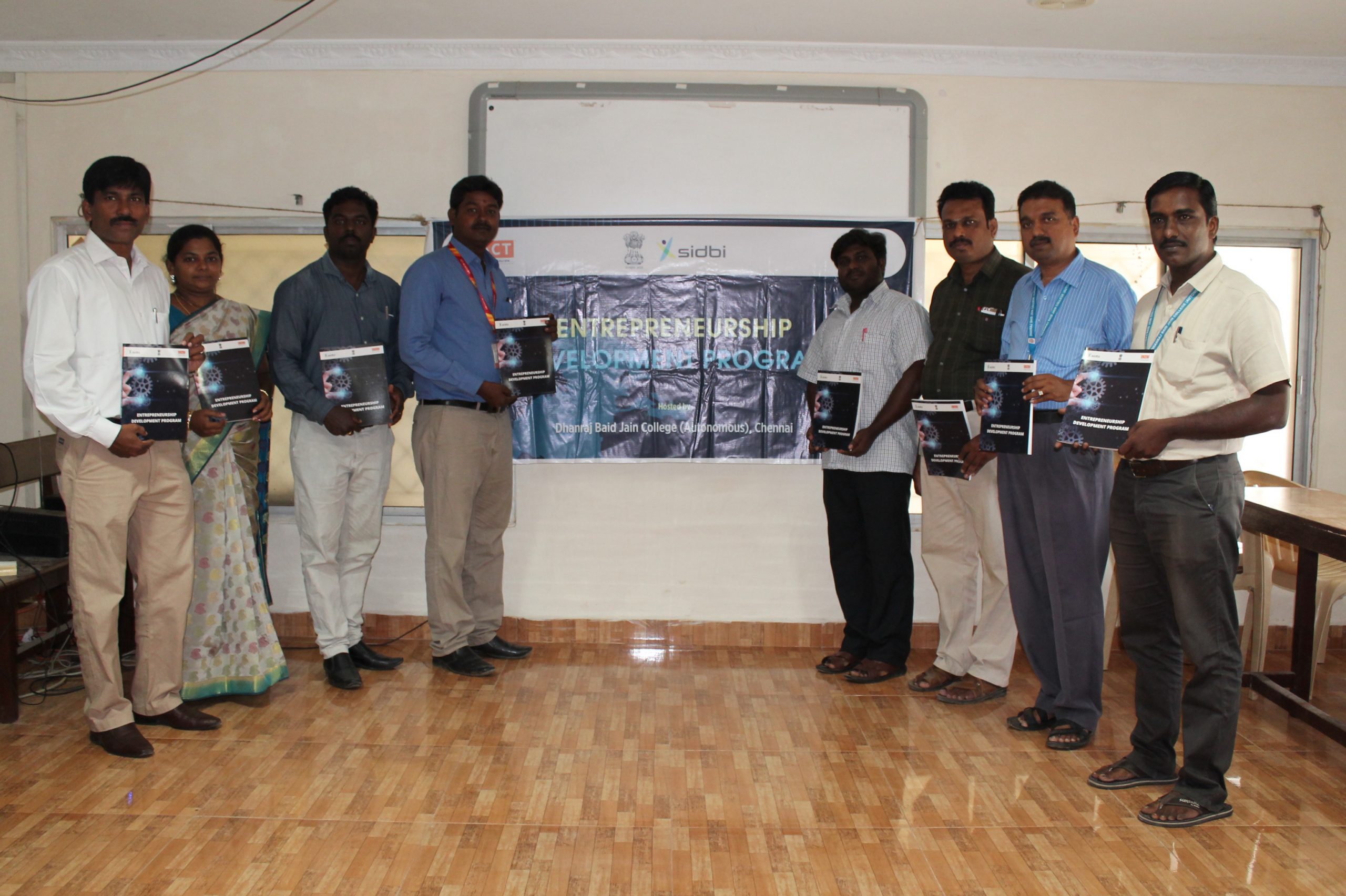 The Entrepreneurship Development Cell (ED Cell) has started with the objective for promoting specialized knowledge in the field of entrepreneurship development, innovation and creative ideas. In view of the worldwide shortage of jobs (both government and private sectors) and lack of proper utilization of human resources; the ED Cell strives to identify talented youth and motivate them to entrepreneurial and innovation works. The centre plans to develop various innovative ideas with the young entrepreneurs and local youth.
DBJC Expo – Aug 2016:
The DBJC expo took place on 23.08.2016 and 15 stalls were put up by UG and PG students of the college. The expo was inaugurated by our Principal Dr. Pankaja R.P and Professor in charge Dr. M. SakthivelMurugan. The stalls exhibited contained diverse products like Cosmetics, Footwear, Accessories , Food items, Chat items , Nail art, Mehandi, Craft Items, Paintings and so on. Students sold the products at reasonable rates and had their profits.
EquitasGyan Kendra:
Our ED cell in association with EquitasGyan Kendra offered skill based training to our students. It was a 5 days program and students were trained in skills like Blouse cutting, Churidhar cutting, Embroidery, Agarbathi& Soap, Mat making, Fashion jewellery, Candle making etc. The Classes commenced on 09.02.2017 and around 60 girl students participated and were benefitted by the program. Participants were distributed certificates as a part of the skill based program.
DBJC Expo – Jan 2018:
DBJC Expo for this year took place on 11.01.2018 and around 29 stalls were put up by our college students. The expo was inaugurated by our Principal Dr. Pankaja R.P.. This year, we witnessed diverse varieties in the products ranging from boutique to beauty salon and cosmetics, Chat items, Mehandi and other art and craft stalls. The outcome of the expo turned out to be very positive and the students were able to bag their profits in full.
Passion is the real drive and We, the ED Cell at DBJC, have undertaken it as our responsibility to steer our students to pursue their passion and fuel their energies to drive their action.
Future Plans
Central Government is offering a training on ED skills through Anna University, on completion of which students will be a given "Diploma in Entrepreneurship".

Awareness camp is scheduled to sensitize the students about the prospects of becoming an entrepreneur.

To provide guidance and facilities for first time entrepreneurs during gestation.

Develop entrepreneurship related course curriculum and incorporate the same through few programs
ED Cell Staff Committee
| | |
| --- | --- |
| Dr.B.Jagadhesan | Convener |
| Prof.Durga Siddarth | Member |
| Prof.R.Lavanya | Member |
| Prof.M.Bharathi | Member |
| Prof.S.Sujinlal | Member |
| Prof.T.Vetriprabhu | Member |
| Prof.V.Nisha | Member |
| Prof.B.Vaishnavi | Member |
| Prof.S.R.Sathyanarayanan | Coordinator – Spoke |
E-Leaders
As we have already discussed, E-cell is fully students driven venture. Its formation is fully done by democratically. The hierarchy of the cell is just like the hierarchy of the a business organization i.e.
Incubation Centre
Incubation centre is a platform in which we are committed to provide all the facilities which are required for the startup communities. In incubation center we are committed to provide the following facilities:
Individual office space for the incubate with all the facilities like individual table with seating arrangements for the entire team, high speed internet connectivity, common photo copying machine, pure dirking water facility, pantry for cooking light food and a meeting hall with all the facilities.
Our incubation centre would be open for everyone, i.e. for our students and faculty members
As a Institution, our incubates are going to get the facility of state of the art different labs facilities, computer labs and instant mentoring support from our well educated and experienced teaching staff.

At our incubation center we are providing mentoring support and consultation support to all the incubates in identification of opportunities, brain storming, prototyping, making business plan and commercialization.

In our incubation centre we are forming active data base of Angle capitalist as well as venture capitalist.

As a incubation center we are linking seed funding agencies in order to support to our students if their projects are really innovative.
Co-Working Space
Co-working space is a new concept in which we are going to provide a well established office space with all the facilities which is required for the entrepreneurs as well as to the people who wants to start their own businesses and finding difficult to find a office space.
Our co-working space is open to student entrepreneurs who are finding it difficult to pay high costing office rents.
The main purpose of opening co-working space to motivate outsiders as well as out alumni start ups to work from our co-working space and try to reduce their business cost. From our Institution point of view, the sole reason is to make our ED department work self reliance and self generating department.